Matte Yellow Nails – One of the best trendsetters, this shimmery shade will make a great addition to your manicure routine. From sunny patterns to the vibrant art, there's something for everyone. You can wear them to the beach, to the office or to go out with your friends: they go on any occasion. If you're looking for a vibrant and funky way to refresh your look, get inspired by these 20 stunning yellow nail designs that will brighten your day.
Matte yellow nails can be a fun and bold nail design that is perfect for adding a pop of color to your look. Here are a few tips for achieving this look:
Choose the right shade of yellow: When it comes to matte yellow nails, the shade of yellow you choose is important. Look for a shade that complements your skin tone and suits your personal style. Some popular shades of yellow for matte nails include mustard yellow, lemon yellow, and neon yellow.
Prep your nails: Before you apply your nail polish, it's important to prep your nails properly. Start by cleaning and filing your nails, and push back your cuticles.
Apply your matte yellow nail polish: Once your nails are prepped, it's time to apply your matte yellow nail polish. Apply a thin coat of polish to each nail, and wait for it to dry before applying a second coat. For a more vibrant color, you may want to apply a third coat.
Finish with a matte top coat: To achieve the matte look, finish your manicure with a matte top coat. This will give your nails a smooth, matte finish that looks great with the bright yellow color. Wait for the top coat to dry completely before touching anything.
1. Classic Yellow Manicure
Try the classic yellow color with a matte finish for a fun and fresh manicure. This vibrant shade will instantly lift your spirits and brighten up your outfit. What more could you need? No matter the length or shape of your nails, you can spice up your routine with this summer-proven look.
2. Nails With Sunflower Features
Thanks to this manicure, take a piece of nature with you wherever you go. What starts as a classic yellow nail color transforms into a beautiful sunflower on just one nail. To create this look on your signature nail, paint a small crescent moon shape with black nail polish and place delicate gold petals around the edge. Add some brown dots in the centre of the flower with a fine brush for a realistic finish.
3. Yellow Ombre Nails
This ombre manicure will instantly fill your day with a mix of sun and fashion. Trendy design that ranges from nude to bold is a popular choice – subtle and fresh lemon color is a great alternative. You can go for this style in any way, but the gradient often works best with more extended tips.
4. Pastel Lemonade Nails
Show off your love of lemonade with this cute manicure. The pastel hue and zesty leaves are the perfect way to create a beautiful set of nails with minimal artwork. It is also an excellent choice for those who prefer a feature nail – you will instantly add a touch of freshness with this nail art.
5. Matte Yellow Watercolor Nails
Let this manicure become a work of art that you can take anywhere. This watercolour design features vibrant colours and subtle designs – add shades of pink or purple to add dimension. This manicure works with any nail length and shape, but if your nails are a bit longer, you can experiment with adding some 3D embellishments on top. You can spend hours admiring the impressive works of art at your fingertips.
6. Matte Yellow French Manicure
Fashion is all about trying and experimenting, so why stop at clothing choice? This trendy manicure has been turned upside down thanks to the touch of yellow. Not too far from the traditional French manicure, this version opts for a lemon shade instead of white tips. It's an excellent option for a night on the beach or just a day at the office.
7. Yellow Graphic Nails
Most probably, This year is all about self-expression, so what better time to do it than with your manicure. With expressive smiley faces printed on each nail in a bright yellow hue, they will make you feel happier every time you see them. Let the bold artwork fly off your fingers by painting it on a bare base; this helps lengthen your fingers and draw attention to the design.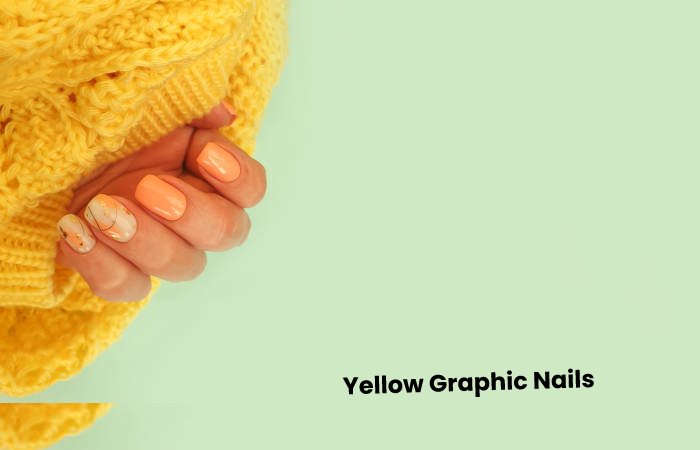 8. Yellow Pattern Nails
Mix things up and create a flurry of patterns on your nails. This funky yet cohesive art mixes bright yellow, white and black and transforms it into a trendy design. Combine leopard prints, snakes and geometric shapes for a unique and elegant manicure.
9. Yellow Nails With Animal Print
Animal print is a drift that's here to stay, and it's a great pattern to incorporate into your manicure routine! If you love yellow, add dimension by adding blue leopard print dots to the base. Paint each finger in this intricate pattern or leave it as a feature nail – it's a popular choice for the person who loves to keep things old-fashioned.
10. Yellow Tartan Nails
Go back to the 90s and try this yellow plaid manicure. Inspired by the legendary teen movie Clueless, you'll be the most incredible person in the room with a manicure this stylish. Put a modern twist on traditional French tips by adding bright colors to the end of your fingertip. You'd be screwed if you didn't try.
11. Minimalist Yellow Nails
Firstly, this elegant manicure features a few shades throughout but packs a punch. Use yellow, black, and coral to carve crescent shapes in your nail bed's top and bottom corners. To stretch the fingertips, paint the base in a nude or neutral tone, making the colors appear lighter.
12. Yellow Pineapple Nails
If you love Pina Coladas and cute sporty manicures, we have the perfect nail art. The classic two-tone nude and yellow polish on each nail is fun every day, but the pineapple on the thumb is the show-stopper. It is excellent, but it's also a lovely way to show your love for summer.
Conclusion
Matte yellow nails – yellow nails are setting new trends day by day. The matte nails provide a unique look to the hands. Moreover, Yellow and black are some of the most striking color combos, and they certainly make a statement.