Weddings today don't just capture the event from the photographer's perspective; couples now use technology and wedding hashtags also to see it from the guest's view. Wedding hashtags can become a slogan for your love story and follow along with all of life's significant milestones. 
But, if you're stressing about how to create one that's catchy and unique, fear not. 
You can easily hire a professional writer to wordsmith an incredible wedding hashtag that'll fit your story and stand the test of time.
There's no doubt that weddings fly by in the blink of an eye, and as the newlyweds, there's a lot that you'll miss. This is because you can't be everywhere all the time. And while your photographer and videographer will document it beautifully, seeing the day from your guests gives you a full 360-degree view. That's why you need a wedding hashtag.
But simply "having a hashtag" for your wedding isn't enough. You have to get the word out. Inform your guests about the hashtag and encourage them to use it. We guess you could call it marketing your wedding hashtag, and the best way to do it is by using these creative wedding hashtag sign display ideas. 
Wedding Hashtag Sign Display Ideas
Yes! Creating a hashtag for your wedding is a no-brainer solution to round up and group all the wedding photos your guests will take on your special day. But as if brainstorming unique and creative hashtags wasn't hard enough, getting wedding guests to use them can be even more challenging. 
While hashtags may first emerge to inform guests of their existence (consider save-the-date cards), they may have been forgotten by the time your wedding rolls around. Here are some inventive ways to showcase your wedding hashtag, so it's known and used. Most importantly, used. 
Wedding Welcome Sign
This is a definite must-do! When it comes to wedding hashtag sign design ideas, the welcome sign is #1. It's the first thing they see when they arrive, so make sure to have your hashtag front and center ready for all those photo-snapping fingers to share.
Direction Signs
Directional signs are sometimes needed at weddings to let the guests know where to go. For example, maybe your ceremony is in one area, the cocktail hour in another, and the reception still in another space. Without signage, it can be difficult for guests to navigate your event. So, since you're making signs to "talk to" your guests, and give them directions, put your hashtag on it.
Neon Sign
Love the retro club scene? Since neon signs are impactful and can also be highly stylish in colors like gold, rose gold, or silver, they've had a revival unlike any other. However, some pairs simply like the more traditional vibrant hues of yellow, green, and blue! 
Because neon signs are so adaptable, your wedding hashtag may be displayed as a neon sign that towers high for everyone to see, regardless of the décor motif you have chosen. The sign can be put up as a centerpiece in the center of the space, as a backdrop for the ceremony, or at the entrance to the reception. 
So, if you have a go big or go home personality, show off your creativity and hashtag to the world with a neon sign. 
Illustrated Chalkboard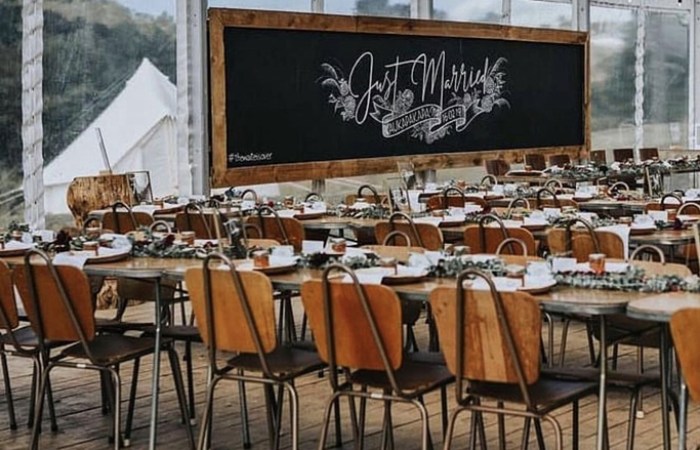 Chalkboards have long been a favorite for wedding signage, and since they're creative and unique, you bet it's a great place to showcase your wedding hashtag. You worked long and hard to get an ingenious hashtag, so make sure everyone knows it…and uses it. The more signage, the better.
Photobooth Background
A lot of fun can be had in photo booths, especially if you take the time to create customized wedding props. They're well-liked by individuals of all ages and can be a popular reception activity. Additionally, it's the ideal setting for your hilarious wedding hashtags to take center stage. For more significant impact, they can even be written on the props.
Centerpieces
Here's an excellent idea for wedding hashtag sign displays…put it in your centerpieces. Talk about having a captive audience! While your guests seated waiting on dinner or speeches, they'll be captivated by your wedding centerpiece. So, make a lovely, small sign and put your hashtag on it. 
Framed On The Bar
Another great location to display your wedding hashtag is with a bar sign. This can be a chalkboard sign, an etched glass frame, or another themed sign. Use something that fits in with the theme of your wedding, but make sure not to forget a bar sign for your wedding hashtag. Because, let's face it…everyone will make their way to the bar at some point, even if it's not for an adult beverage. 
Marquee Sign
If you're saying "I Do" at an event space that has a marquee, use it! Not only to showcase your names or congratulate your nuptials but also to advertise your wedding hashtag. 
On The Transportation
Okay, if you're going all out and creating unique and unexpected elements such as fun transportation for your guests, don't forget to plaster your hashtag on it. It's quirky, fun, and unforgettable, which is vital in getting them to remember your hashtag.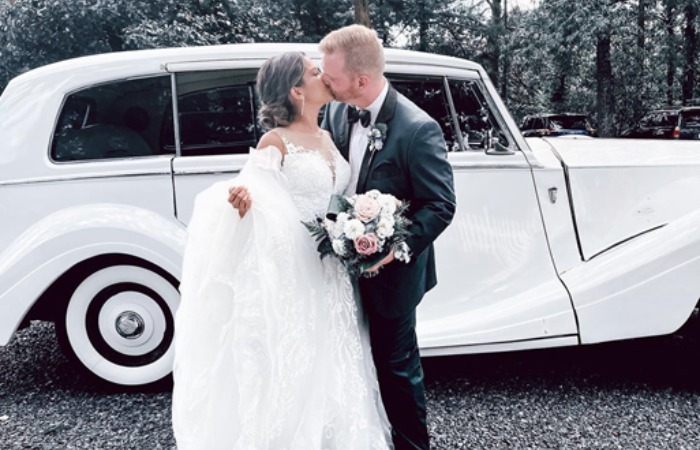 Party Favors
Wedding favors are one of the last things your guests will receive at your wedding. So, what better place to put your hashtag? This ensures they won't forget it when they get home, and as they go through the images they snapped, they'll remember to tag them. 
How To Create A Wedding Hashtag
When it's time to create a hashtag worthy of your love story, you have to do it right. Avoid choosing a dull wedding hashtag that hundreds or thousands of other couples might use. If you do that, your wedding photos will disappear in a sea of unending pictures and lose some of their Instagram-worthy statuses. 
Here's the best way to get a hashtag that's brag-worthy. 
Hire Professional Writers
Your love story is unique, and your wedding hashtag should also be. So, hire a professional writer rather than create a simple hashtag that other couples might use. It's better to leave the writing of your wedding hashtag to the professionals unless you are an expert wordsmith or creative at coming up with clever sayings and catchphrases.
They simply have a phenomenal way of seeing words and turning them into memorable slogans that'll fit your personality and love story.
Use A Wedding Hashtag Generator –
We know that wedding budgets can quickly get out of control, and while the cost of a writer is small, when planning a wedding, every penny counts. So, if you don't want to pay for a professional wedding hashtag writer, you can use a free wedding hashtag generator service.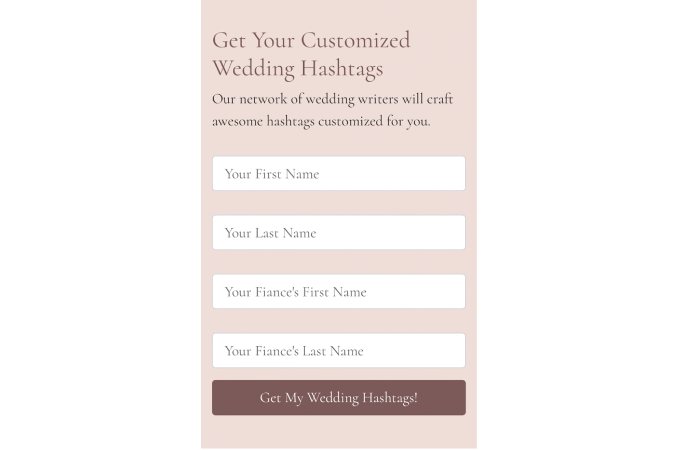 A wedding hashtag generator is an excellent place to start, and if you don't get one that you love, you can always hire a writer. 
Make Your Own
If you have a knack for funny or witty sayings, you may want to take a stab at creating your own wedding hashtag. It's pretty easy if you love words and can even have fun with them. Turn date night into a hashtag brainstorming session, or invite friends over to help. 
#FindYourPerfectHashtag
The more times your wedding guests see your hashtag, the more likely they'll use it. So, shout it from the rooftop, and add signage everywhere. 
Writer's Bio
Lesley Turner
I am a professional writer, social media manager, and SEO content writer for wedding businesses around the globe. While there is no surprise that weddings are the love of my life, traveling is also the blood in my veins. I am endlessly inspired by nature, wildlife, and all wonderful adventures.