David DiLorenzo is the Founder & President of Valentino Beauty Pure. He previously worked at VETRO USA INC as a President. David DiLorenzo attended Spanish River Community High School.
David DiLorenzo (CEO) is a self-made man from New Jersey. He grew up in a family of barbers and started his salons at a young age opening his first salon in 1974. He opened very high-end salons in Boca Raton and South Beach, Florida.
David catered to some of the wealthiest and most famous figures in the South Florida region. David saw the need for salon and spa ventilation in the 1990s. At that time, he designed a compact device to remove dust and odors from the salons and spas. This idea became known as the Valentino Beauty Pure™ in 2011 when he started a family business with his son David Anthony.
It is located in Palm Beach, Florida, United States
In the Region of Greater Miami Area, East Coast, Southern US.
Valentino Beauty Pure™ printed in Milady Standard for the next seven years. The premier textbook for cosmetology education. They have won the Nails and NailPro Reader's Choice.
More Details of Valentino Beauty Pure
Valentino Beauty Pure line found and worked with one of the best chemists around and began to develop an acrylic and gel polish line thoroughly blind tested by 1,000 Technicians over one year. These products now release as Valentino Beauty Pure's Acrylic System and Gel System.
David and Valentino Beauty Pure continue to dominate the nail industry, with social media touting his praises. He and his company believe in success and are only successful if you succeed. Maybe that is why Valentino Beauty Pure is a household name in over 20 Countries Worldwide. Now that's a success.
Why Valentino?
Its Statement – Providing a clean and healthy environment for beauty professionals.
It has many applications – Whether you are applying acrylic, gel, polish, or a regular manicure, the Valentino is a must-have to begin your dust-free life.
What is it?
The Valentino Beauty Pure is a 2 in 1 at the source air filtration system for your salon, spa, or beauty school.
How does it Work?
The Valentino Beauty Pure system utilizes a high-quality carbon filter with a high CFM fan. The filter is 200% carbon with a 293 CFM high RPM fan. The fan is adjustable from HIGH to LO.
Why do we need it?
When working in a salon or spa, you are surrounded by harmful chemicals all day. For example, nail dust and chemicals used in the industry have been known to cause health issues. Protect your health with Valentino, where these chemicals and nail dust absorbs at the source.
Its Research And Development
Valentino Beauty Pure™ is always looking to improve and expand our products. They do the homework to make the products the beauty industry demands.
It's Manufacturing
Valentino Beauty Pure™ custom manufactures all products in their factory in New Jersey. They apply the latest technology to ensure you get the quality products Valentino prides itself on.
Valentino manufactures many more products on their way.
Customer Satisfaction
They pride themselves on customer service. They always strive to support their customers to the best of their ability. As a result, they have achieved a 99% customer satisfaction rate.
Product Reviews of Valentino Beauty Pure
Valentino Beauty Pure Acrylic Powder ROZAY
Valentino Beauty Pure's Acrylic Systems develop to self-level and create a flawless finish. This product has superior adhesion and shows the actual color. In addition, our fantastic powder has excellent workability, which allows for a bubble-free, even-toned look.
Color: Rozay
Acrylic System by Valentino Beauty Pure – Smoke & Mirrors Collection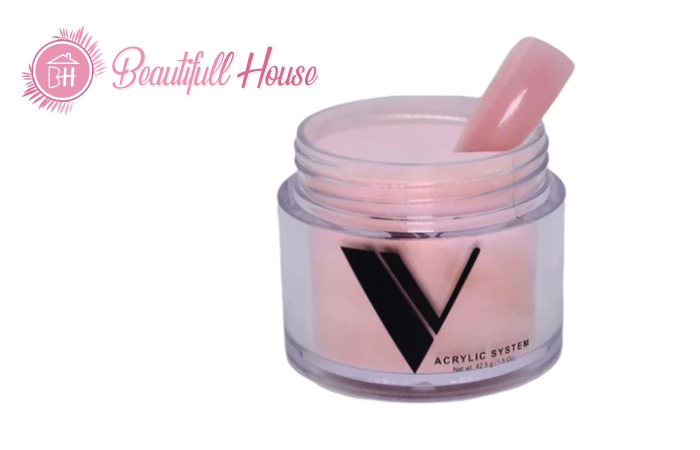 Size: 1.5 Oz
180-Hot In Here is a sheer milky white. I was excited about this one because I didn't have a milky white. I always had to mix some white into a clear gel. It makes my life much easier. Even though the formula was thicker than I'm used to, it was still easy to work with. I used two coats for my swatches.
045-White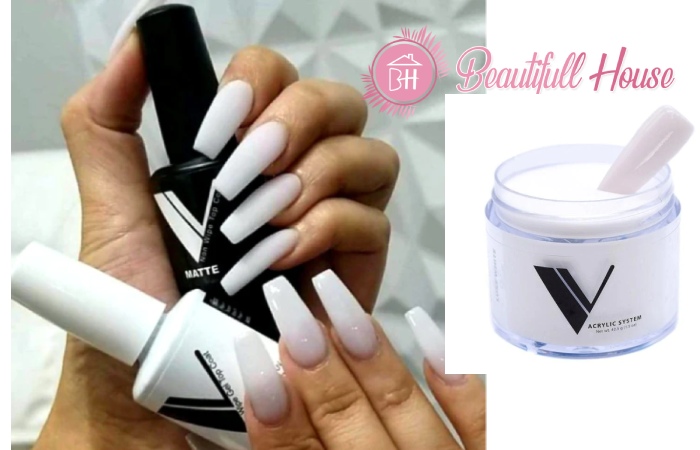 045-White is a bright, very opaque white. If you want a gleaming bright white, this is it. The formula was creamy, and I did two thin coats. It is very pigmented, so be sure to keep your coats lean. I even did one coat over the black to show you how pigmented it is. It will be my go-to bright white!
007-Passion
007-Passion is a bright light pink with a hint of a purple undertone, making it a cool-toned pink. Of course, this one I spied on and just had to have. I'm always looking for a dupe to the OG Mod About You by OPI. It is close but in a gel formula. It was opaque in 2 coats, which I did in the swatch photos. I LOVE this color!
Top Coat
I used the Valentino Beauty Pure Non Wipe Gel Top Coat for all of these swatches.  It is super shiny and doesn't need to be cleansed afterward.  The formula was thinner than my current preferred top coat, so I had to be careful not to flood my nails.  That being said, it didn't leave a rubbery feeling afterwards like some other no wipe top coats I've used.
I don't particularly care for the rubbery feeling. And also, I did wear the top coat for 2 weeks and I didn't notice any discoloration or unusual wear compared to my current top coat.  I did notice that it seems to pit/separate when applying and applying more than one coat really didn't help.  It was hit and miss on the pitting when I used it over all of the swatches.
I used it over one of the Go Nude colors my nails, so it wasn't an issue with it being applied over a different brand gel.  I haven't tried it over stamping to see how that works, but I will try in the future.