Men's Facial Treatment – Men also have the right to their attractiveness routine. Moisturizing cream, aftershave lotion or scrub- here are top men's face care products to maintain and protect your skin, according to each person's needs.
A Daily Face Day Cream – Men's Facial treatment
Moisturizer For Men's Facial treatment
The primary intention of moisturizer is for normal or combination skin types. Dry skin will prefer a nourishing cream with a richer formula. A moisturizer hydrates the skin, softens it, and makes it more comfortable, especially after showering. Ideally, the moisturizer applying should be every morning after cleansing the face. It can also be used as UV protection if a sunscreen face cream.
Nourishing Cream – Men's Facial treatment
The nourishing cream is a daily care product for dry skin. Thanks to its nutritious formula, it nourishes the skin and repairs it in case of dehydrated skin (peeling, frostbite or redness). It also helps prevent feelings of discomfort related to dryness, such as tightness and itching. After cleansing the skin, it is applicable morning and evening, massaging well until completely absorbed.
Mattifying/Purifying Cream
Mattifying and purifying creams are men's face care products for oily skin with imperfections. Their purpose is to purify the skin but also to smooth it. Oily skin is skin that tends to produce too much sebum. The mattifying cream will help regulate this overproduction and prevent shine, especially in the T-zone. This treatment is applied in the morning and can be supplemented with targeted anti-acne therapy to reduce the appearance of pimples.
Soothing Cream – Men's Facial treatment
The soothing day cream is for sensitive skin, which tends to blush easily or show signs of irritation. It then makes it possible to fade redness, soothe the skin and calm any reactions. It is applied every day, as daily care and when needed, especially during periods of cold and wind, when the skin is weakening.
A Face Lotion To Wake Up The Skin
There are face lotions for all skin types. Depending on their composition, many creams serve to soothe, awaken, or refresh the skin. Cornflower lotions, like a hydrolat, can ease the epidermis and decongest dark circles. Conversely, a tonic and energizing lotion based on citrus fruits, for example, will wake up the skin and restore its radiance. Ointments can be used every day after cleansing, before applying face cream, or to refresh the skin.
Get Rid Of Impurities With A Facial Cleanser
Men's facial cleansers are for all skin types. The ideal is to take a soft one for daily use.  It will be less aggressive than traditional body soap for reactive or sensitive skin. There are also purifying cleansers recommended for blemished or oily skin.
Scrubs And Masks – Once A Calendar Week
Masks and scrubs are only for oily skin with imperfections and normal skin. The recommendation is to do this once a week. The care of sensitive skin should be particular as it may overreact. The scrub is a facial treatment used to unclog pores and fight against imperfections. Its formula contains a fatty agent and an exfoliating agent (apricot kernel extracts, etc.), which rubs the skin. It is applied to the entire T-zone (forehead, nose, chin), using circular movements to remove dead skin, then rinse. A mask, for example, based on clay, is applied to the entire face, leaving it to rest for a few minutes. It cleanses the skin, purifies it  and restores its radiance.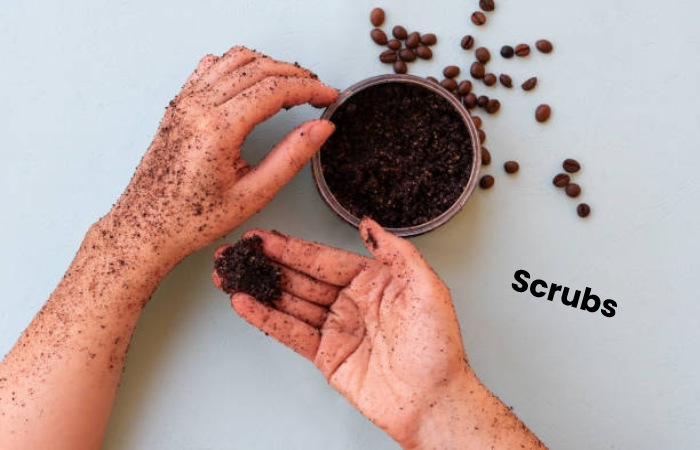 Aftershaves To Perfume The Skin
Aftershave is a men's facial treatment for people who shave daily, in the form of a lotion or balm. After shaving, the application is to soothe the skin and prevent burns or redness. Aftershaves generally have a fresh scent and can be used as a light eau de toilette to complete your beauty routine for the day.
Men's Facial treatment For Skin Problems
Anti-wrinkle or anti-ageing creams are men's face care products intended for young or mature skin, which show the first wrinkles or have wrinkles set in. Depending on age, they help either prevent the onset of wrinkles or fade them by smoothing the skin and filling in the furrows dug by time. Their composition can vary and contain agents that stimulate the production of collagen. This type of care is a daily cream applied as a day cream in the morning.
Anti-Acne Cream
The latest targeted men's facial treatment, the anti-acne cream, is made to treat problem skin and oily skin. It treats mild acne, blackheads and pimples that usually appear on young skin
The Lifting Radiance Treatment From Odile's Hands
Manoeuvres intend to firm the oval, refresh the look, and restore tone to the skin. Masseuse and physiotherapist Odile focuses on areas that cause pain, relax the jaws, which often tense with stress, accentuate the tired look, and work on marked wrinkles with a small stylus.
Jane De Busset's Skin Cleansing
The treatment begins with a descaling of the pores using a painless probe. Skin cleansing is followed by extracting more or less sturdy blackheads, depending on the skin. Sylvie's hands are so expert that no trace remains. We then move on to the application of a disinfectant cream and a probe which diffuses high frequency with healing and soothing properties. Then Sylvie puts an oxygenating camphor cream under a gauze. Manual massage, divine, is the reward. The protocol ends with a mask that restores the skin's pH and tightens the pores, then a treatment applied with many kneading and smoothing operations that ensure a radiant complexion.
Ren Detox Treatment At Oh My Cream
​​After deep cleansing with a balm, followed by an enzymatic scrub with a mask, it's time for a personalized program. The draining massage by pressure along the jaws, cheeks, and forehead frees the skin of its toxins. It is the promise of a supply of new blood, rich in nutrients and oxygen, with the key to a fresher, rested, completely relaxed face.
Conclusion
Men's Facial near me – Men's beauty care is also essential for their bodies. Facial care routines help the skin glow instantly. Most men are ignorant of their beauty care. If male beauty is more and more ubiquitous in our society, most cosmetic products found on the market are not suitable for your skin and health. In a world where the image takes precedence, taking care of one's appearance today concerns women and men.