Planning to design or re-design your salon but afraid to even know how much that would cost?
Here's the good news: Building a lovely beauty salon doesn't have to be expensive.
Let's cover why you should put some thought into your beauty salon design, figure out what style to go for, and come up with ideas to get started—on a budget!
Why Design Your Interior Salon Space?
IMPROVE AWARENESS
Designing your salon interior can help to improve your company's visibility and awareness among potential customers. In addition, a carefully thought-out salon layout and design create a more substantial brand presence.
IMPROVE CUSTOMER EXPERIENCE
Keep the customer's experience in mind while creating an inviting and comfortable atmosphere. Incorporate comfortable seating, natural light, a relaxing color palette, and high-quality fixtures and fittings to make the space attractive and professional.
CREATE A GREAT FIRST IMPRESSION
An impressive, professional first impression keeps your salon fresh and exciting in customers' minds. Next, consider your branding and how it ties into the interior design and ensure the environment looks attractive and well-maintained.
BOOST PROFIT
An attractive salon design increases customer flow and boosts profits. In addition, areas like waiting and retail should be visible, providing customers easy access to expert advice and products.
How To Design A Low-Budget Beauty Salon
The key to creating a low-budget beauty salon is by thinking multi-purpose.
When designing the salon, look at areas where different services can carry out. For example, depending on the client's needs., a single station can use for both waxing and haircutting. Consider the type of furniture and decor that can use to create different atmospheres.
LIGHTING AND MIRRORS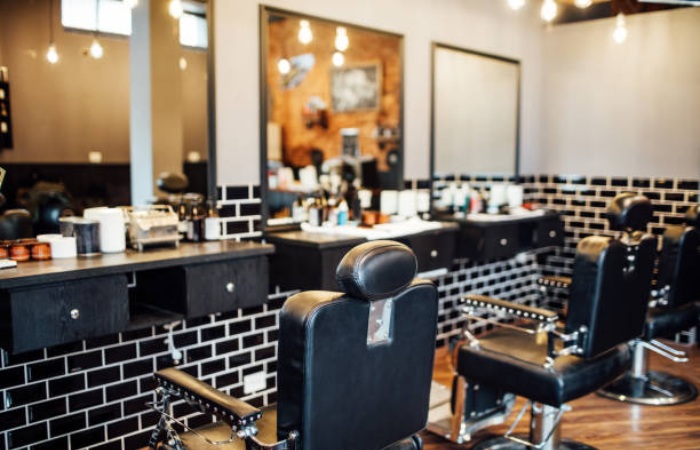 Mirrors are essential for any salon and can also be used to create an ambiance. Consider the cost of setting up good quality lighting, as this can be expensive. Look at using LED bulbs that are energy efficient and long-lasting.
PLANTS AND FLOWERS FOR A GIRLISH TOUCH
Plants can make a simple layout look more refreshing and sophisticated. Add a few potted plants or flowers, such as succulents or herbs, to bring a touch of nature into the salon. They also help to reduce air pollution, creating a healthier environment.
PLANNING THE LAYOUT
The separate waiting area with comfortable seating
Dedicated stations for services such as waxing, haircutting, and styling
A proper retail location close to the entrance
Colorful and inviting walls to draw attention
Open space to maximize the use of natural light
Mirrors strategically placed to create an inviting atmosphere
Good quality lighting to make a good ambiance
Sinks and other necessary fixtures
Storage areas to store equipment and products
Salon decor that adds personality to the space
Some Popular Layouts for a Salon Business Include: –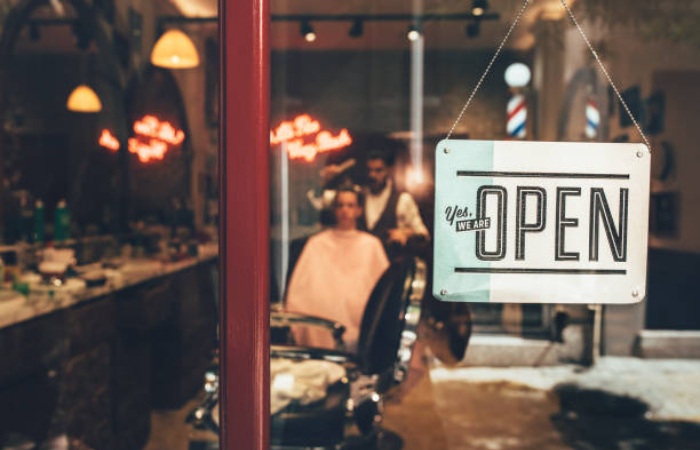 An open salon layout- perfect for a small salon with limited space. It keeps inside walls to a minimum and uses mirrors on the walls plus double-sided workstations to create more room. Whether you're looking for a minimalist or more glamorous design is excellent.
A narrow layout- you can use either framed mirrors or wall-mounted floor-to-ceiling mirrors to diffuse lighting and open up a small area or salon. This style of design focuses activity down the center of the salon for a modern style.
A multi-room layout- if your hair salon has the space, you can dedicate different rooms to different functions. If you're hoping to do this in an existing area, you can save money by building half-walls or even setting plants throughout the room as elegant dividers for privacy.
A small salon layout- if you have limited space, choose one "statement piece" decor item as the focal point, such as a mural or piece of furniture. Add multifunctional salon equipment and storage trolleys with a small footprint, and choose a lighter color theme to make the most of your lighting in a small salon design.
A suite layout- if your salon's business involves renting space to other professionals, you can provide a "blank canvas" with bright, clean colors and free them to customize their new salon space. If you're working in a suite, opt for movable storage trolleys and additional lighting that you can move or adjust easily.
COLOR IT UP
Color adds life and interest to your salon. First, consider the feeling you're aiming for. Is it natural and calming, or eye-catching and glamorous? If you are working with a budget, look to paint one feature wall in a bold color or choose colorful fabrics or furniture to add fun to the space.
LOGOS AND SIGNS
With all this planning, don't forget about your logo and signs! A tasteful logo, business name, and signage that all tie back to your salon's mission statement lends credibility to the salon and is a great way to advertise what you do.
Low Budget Beauty Style Designs
Here are some style ideas to get those creative juices flowing!
LUXURY BEAUTY SALON INTERIOR DESIGN
Who doesn't love a luxurious atmosphere? Choose classic and timeless pieces, such as leather chairs and sofas, and add statement pieces, like velvet chairs and plush carpets. Invest in good quality fixtures and furniture, and choose sophisticated and muted colors.
MODERN BEAUTY SALON INTERIOR DESIGN
Consider using fresh colors, natural materials, and simple yet modern furniture. Use bold colors for the walls, such as black, white, or grey, and add bold colors for furniture and accessories. Look to metal fixtures and sleek lines when choosing furniture for a modern and chic look.
RETRO BEAUTY SALON INTERIOR DESIGN
Retro designs are always popular, as they bring a sense of nostalgia to the salon. Look for vintage furniture pieces and combine them with brightly colored walls and accessories.
BLACK AND WHITE BEAUTY SALON INTERIOR DESIGN
The classic black-and-white is never out of style. Give the salon a timeless look by combining white walls with black furniture and accessories. Use bold colors to add warmth and texture to the walls to make the salon more inviting. Add natural elements like plants or flowers to add color and life.
LOW-BUDGET BEAUTY SALON INTERIOR DESIGN
Get creative! Look for second-hand furniture, refurbish them, and look for cheaper alternatives like faux leather, vinyl, or fabrics. Use bold colors for the walls to create an impact. Finally, invest in good quality lighting, which will make all the difference to the overall look.
GLAMOROUS BEAUTY SALON INTERIOR DESIGN
Girls love glamour. Consider using soft fabrics, metallic accents, and plush carpets when going after a glamorous design. Also, look for furniture and accessories with sparkle or shimmer to create the perfect charming feel.
Conclusion
Ready to take the next step towards creating a stunning, cost-effective beauty salon interior design?
Keep the customer experience in mind, get creative with your materials, and let your personality and taste shine throughout the design. With careful planning and following the right tips, you can create a stunning salon with a low budget.
Related searches –
Small salon design ideas pictures
Small space small salon design ideas
Beauty Salon Design ideas pictures
Small hair salon design ideas and floor plans
Beauty parlor design
Simple salon design
Beauty parlor interior design Photos Indian
Ladies' beauty parlor interior design